Are you looking to showcase your bank offers on chat interfaces like WhatsApp and FB Messenger?
mTuzo can help.
We all know that consumers spend a lot of time on WhatsApp and other chat interfaces. Some recent reports have quoted that Indians spend more than 90 minutes everyday on WhatsApp.
Wouldn't it be nice if they could interact with your WhatsApp for Business number and check online and offline offers too?
mTuzo already has all your bank offers in its geo-sensitive database. And our robust APIs are already integrated for quick deployment across multiple chat and voice based platforms including – Facebook Messenger and WhatsApp.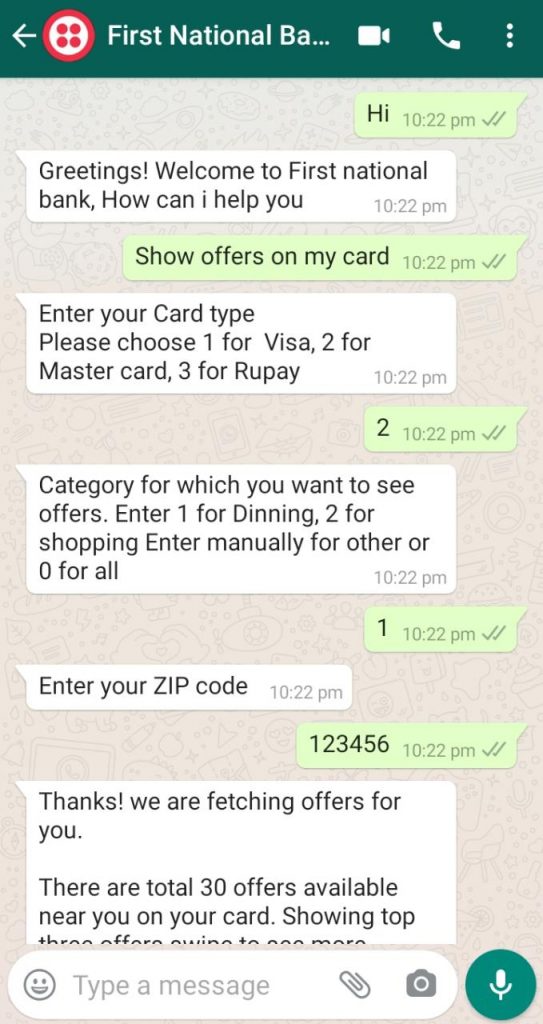 With max of 3 to 4 messages mTuzo APIs can showcase the list of bank offers for their customers on WhatsApp. E.g.
Best offers on Flipkart
Dining Offers in Ahmedabad
Shopping offers in Connaught Place
If you already have a WhatsApp bot, offers could be easily added in as an additional feature. Given the high frequency with which consumers may want to check offers, this could easily become the top reason for your consumers to talk to you via WhatsApp.
---
Sounds Interesting? Talk to us today